Overcoming challenges with a fairytale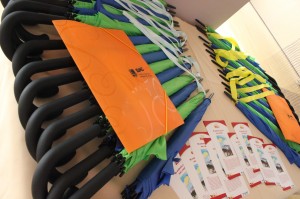 A while back we were presented with a challenge for a team-bonding program for 600 pax. The idea was to offer participants some sightseeing of Ljubljana before heading for dinner.
Since Ljubljana is small and charming you can imagine that it is not the easiest thing to find a venue that could seat 600 participants for dinner. But in Ljubljana everything is in walking distance so "dine-around" concept was accepted. This way participants got time to explore and feel Ljubljana despite their full schedule.
All we were missing now was a story that would go with it. iDMC's team quickly remembered a famous Slovenian fairytale "My umbrella can turn into a balloon". And so our fairytale journey around Ljubljana city centre began – it was fun in the making! Imagine your umbrella can transform into a balloon. And that you can make a hat that makes your dreams come true!
But 600 people on the same quest? At the same time? For us that meant 600 people from 11 different European countries, divided into 42 groups, starting on 4 different locations, visiting 3 different magic points and numerous variations of routes to that point and 10 different restaurants. You can do the math for logistics =)
Well prepared team and clear instructions were the key here. The energy we managed to establish between participants still amazes me.
The conclusion was in every way worthy of the adjective "fairytale". We gathered all participants atop of Ljubljana Castle. Soon enough everyone was holding lit white balloons with a wish waiting to come true.  The tension was building up and finally everyone released their balloon into the sky (yes, balloons were bio-degradable and as such environmentally-friendly) and enjoyed the party that followed.
---
---