Easter, Slovenian style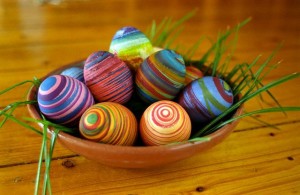 Easter, in Slovenia called "Velika noč" (the Great night), is a Christian feast and holiday celebrating the resurrection of Jesus Christ on the third day after his crucifixion at Calvary as described in the New Testament (Wiki). In that time many ceremonies take place – from strictly traditional to more modern ones.
A great sample of a modern ceremony is blessing the motorcycles and motorcyclists, wishing them all the best on the road, as well as encouraging them to drive responsibly. The ceremony takes place in Mirna Peč (map), near the birthplace of great slovenian musician Lojze Slak and slovenian poet Tone Pavček. Saddly, both of them died last year so the ceremony was also dedicated to them both. 
People who are religious and also those who are not dedicate that time to their families. Visiting children, parents and great parents is something everybody does. And where is family, there is food. Traditional food, eaten in that time of year is: ham, "potica", Easter eggs and horseradish.
"Potica"
Potica is a nut roll, that is should not be confused with "Strudel" or "Pearson's Salted Nut Roll". Because we know more then one kind of potica, we will tell you more about it in one of our future posts.
Easter eggs – "pirhi", "pisanica" or "pisanka"
As many Slovene nations, also Slovenians make easter eggs. Their symbolic meaning has become a secondary topic, as pirhi are more of an art, then of a food. Many are also being emptied and only the egg's shell is being used to create beautiful Easter eggs, that are then either given to family members or they serve as a home decor.
Best known are traditional Belokranjska pisanica and modern Vrhniški pirh.
---
---